Home
Products
AMOLED PMIC
Wearable AMOLED
BV6804
AMOLED PMIC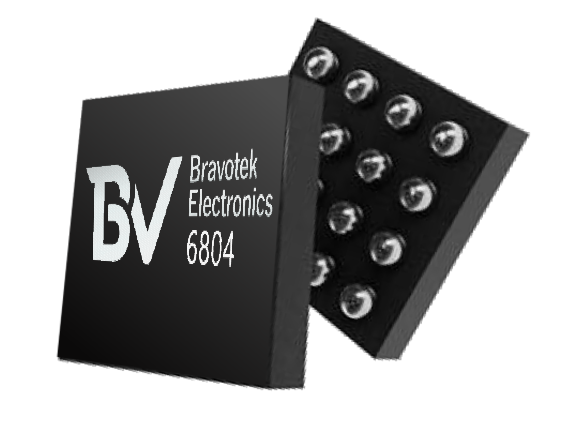 BV6804
WL-CSP-16B 1.64mmx1.64mm
The BV6804 is a highly integrated power solution for AMOLED Display application, which uses a single-inductor-bipolar-output (SIBO) converter and three linear low-dropout regulators (LDO) to
generate two positive and one negative voltage outputs. It does not need an extra charge pump circuit to generate the negative voltage output so that external capacitors required by the charge
pump circuit can be eliminated and the PCB space can be achieved with very small.

The output voltages can be adjusted by SWIRE pin. Compared with the scheme of generating negative voltage by a charge pump circuit, the best energy conversion efficiency can only be obtained near the
negative voltage ratio provided by its charge pump circuit. This SIBO architecture can provide a stable high conversion efficiency throughout the entire negative voltage adjusting range. Therefore, this
solution can provide the optimal negative voltage output value according to different brightness requirements to reduce the power consumption of the AMOLED display significantly. This is the best
solution that can optimize the solution form factor as well as display power consumption.
Features
Input Voltage Range: 3.4V to 5.5V
Positive Output Voltage AVDD: 2.6V to 3.5V
(Default is 3.3V±1%)
Positive Output Voltage OVDD Range: 2.6V to
5.3V (Default is 3.3V±1%)
Negative Output Voltage OVSS Range: -0.6V to
-4.7V (Default is -3.3V±1%)
Low Quiescent Current: 70μA
AVDD Max. Loading is 20mA, OVDD and OVSS
Max. loading is 100mA
Low Output Ripple
Built-in Internal Soft start
UVLO, UVP, SCP, OCP, OTP, and SSP protection
Application
Active Matrix OLED

Portable Multi-Media Devices
Performance
Reduce BOM cost and compact PCB area.
High efficiency dynamic OVSS scaling to save more display porwer consumption.

The samllest IC package size.

The highest output current.
Diagram